1994 Saturn SL2
Goal:
A clean functional steet-driven track car.
Start Date:
09.10.03
Planned End Date:
It's too hard to judge!
Modifications:
http://www.sixthsphere.com/forum2/ga...vehicle&CID=51
Q&A Thread:
http://www.sixthsphere.com/phpBB3/vi...p?f=61&t=19685
Introduction
I suppose I picked up a rep as the New England detail junky (hence the name); I'm obsessed with my car and all of those little things. Why else would I powdercoat an entirely unseen suspension (It's not because I'm crazy I promise)?. Prior names for this build included the "high school budget build", an era that has long since passed. With better paying jobs the name went obsolete, although I must admit that, at more than one point, I more or less worked for the car. It became a rather nasty sickness that proved to be somewhat crippling in other departments of life, as well as one of those "hard lessons" learned. Diseases aside, the tallied investments have proved bank breaking but all of this progess wouldn't have been possible if I'd avoided pleading poverty every time I made a purchase. In all seriousness I imagine I'd be a few steps behind if I'd been afraid to spend. When it came to spending I always shot (and shoot) for the best. When it came to working there was alot of cussing, an unhelpful Haynes manual, the forums, alot of common sense, and a very patient mentor (another thanks to Dad). All of the headaches, the many stripped fastners, and other nightmares have contributed heavily to the never ending learning curve; something this car has been the absolute foundation of. Really, if it'd been any other way, I probably wouldn't know or be able to do half of what I do now.

Now when I initially stumbled into the whole Saturn thing I had no grasp on the community. Originally I thought it'd be like any other small fwd economy car. Boy was I wrong! The more I got involved the more I was exposed to the truth; a rather cheap, lazy, disrespected, and unsupported group. In the midst of this crowd of stereotypical reputation impairing Saturn owners (vist Saturnfans.com) there was the handful of hardcore "anything-can-be-done" die hards (RIP TSN). With a father fabricator and a rather vivid imagination I was determined to seperate myself from the "Saturnfans" type. In the so called early years I had no idea how to do so, so I went with what I could understand. This lead the car through all the basics; an intake, header, exhaust, lowering springs, and other typical stuff. It also birthed the obesessive detailer in me. Determined to have a clean car I went through a restoration phase. The breif interior era was pieced together out of purchases on the forum and a few cars from salvage yard. I had a fairly clean, solid, and stock interior but not being able to get over the used look promted (among other things) its current "gutted state". Unable to afford a paint job, I sought out solid body panels as an alternative. Now only the four original door panels are still in place while the rest have been replaced with good color matching panels (with an exception to the hood whom my friends ruined). With the early years being all about ironing out the asthetics and fiddling with bolt-ons my growing knowledge has the car planned out well beyond its current state and ready to evolve with bigger, better, and more potent builds. The almost never ending suspension build proved to be the pioneering project, being a big benchmark for the beginning of a more serious Saturn.

I'm really interested in pushing the envelope; doing things with this car that haven't been seen yet in the community (or with a Saturn). I won't disclose on my ideas though, you guys will have to wait update by update! Back to a serious note though I'm aiming for a car with unrivaled asthetics while being competitive at a variety of motorsports. No monster horsepower numbers either. I'm settling for something that has daily driven manners with some bite for the weekends. Right now I'm more or less focused on getting my foot in the door of a variety of new things. Namely forced induction. But, in a broader sense, all of this progress is toward making the car fully functional before I take the dive. You guys will deffinately know the time has come when it does. It'll be awhile yet between money, learning, and new skills. The rest of my statement is a pipe dream; magazine feature and becoming some sort of blip on the spocom scene. Kind of a stretch with a Saturn though! Thank you for looking.

~ Craig
Stock
By the time I got my license and the car on the road alterations had already taken place. The car had a polished AEM SIR, used Thermal R&D cat-back, a cut down shifter, and a set of fresh 205/50/15 Falken Ziex 512's. I cleaned the car up the best I could, even going as far as to swap in some decent/used gray carpeting, a pair of OEM 2G SC2 black leather front seats, and most of the dash panels. As time went on I got well acquainted with disassembling the car as I replaced many other misc items.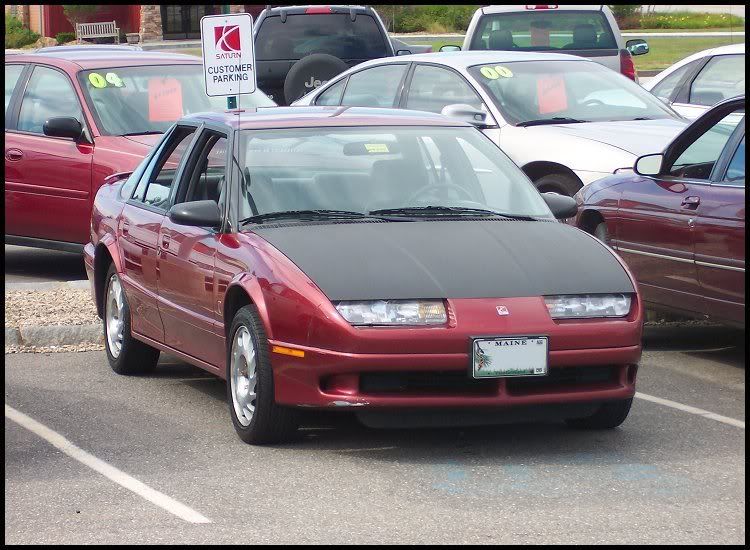 Incarnation 1
The winter leading into 2005 marked a big step for both the car and my skill set. Determined to clean the car up further I gathered replacement body panels (all color matching with the exception of the front and rear bumpers which I had painted) to replace the heavily damaged pieces. Upon tearing the car down this left with me just the roof and four exterior door skins (a matching spoiler-less trunk came later). Then came lessons in paint correction to remove medium blemishes, scratches, and the swirling that marked the 14 year old paint. It took some patience and experimenting but, armed with a Porter Cable and Meguiars products, I managed to produce a near flawless finish. By this point in the cars life I had scored a set of used set of KYB/H&R's as well as some cheap 16x7 Rota Subzeros and a billet aluminum SPS strut tower brace. The motor got an OBX header, MSD plug wires to fit a 2G composite cam cover, and a Catco high flow cat to bridge the gap from header to exhaust. In the mean time I'd been building up bigger things outside of the car...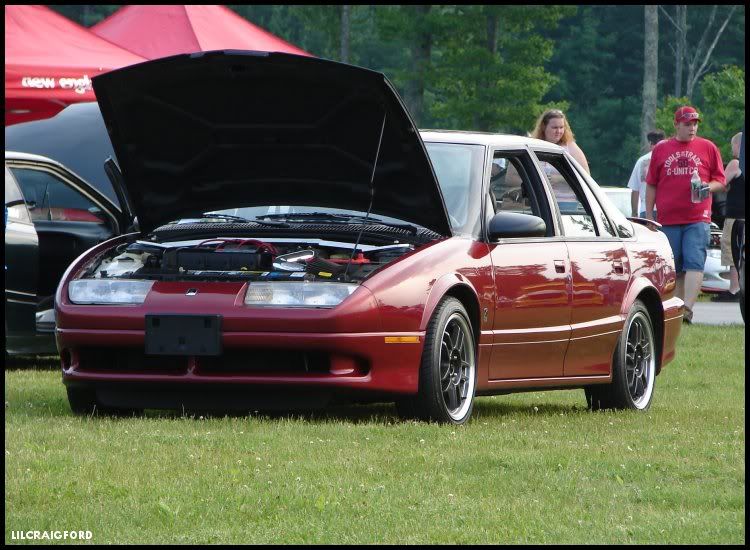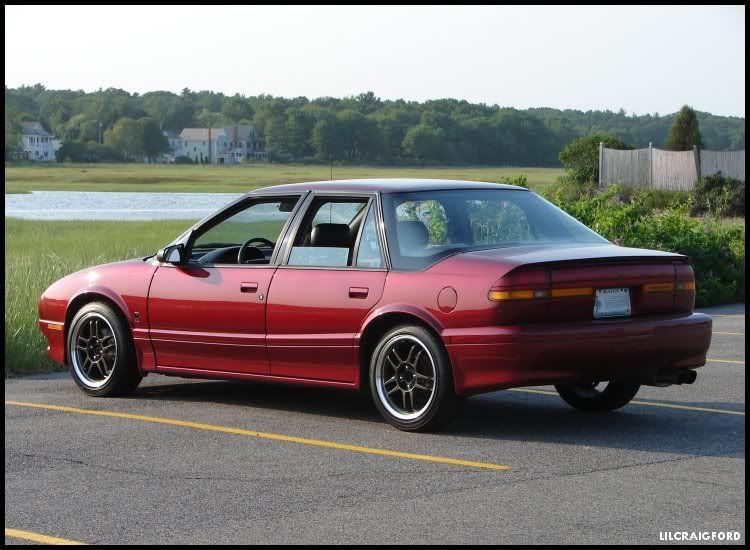 Incarnation 1.5
...which leads us to the stage that overlaps the initial posts in this build thread. I had big ambitions for the cars suspension and things slowly got out of control. With a spare suspension at my disposal I set out to build the most detailed set up with the best of what I could get my hands on. Of course all of the powder coating and new OEM hardware got expensive really fast.