Well, I sold a couple cars because I'm trying to buy a house. That is actually why I picked up my SC1, it's a great DD so far. Here are the two toys that are payed for, so I held on to em.
1997 Cobra, Vortech T-Trim, TKO600, built rear, full suspension
1987 GN, GT6131e, Art Carr 200, 3000 stall, Strange 9", HSW Wet Kit, full suspension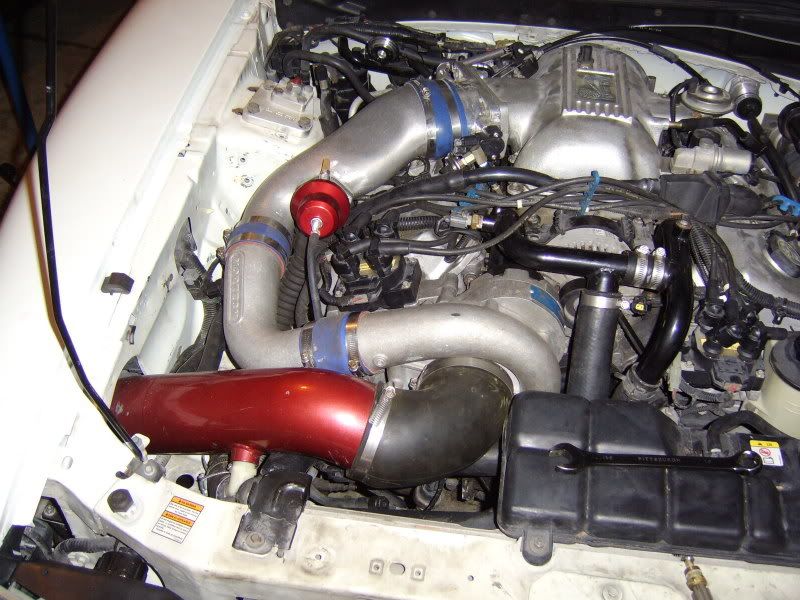 The Cobra is actually back on the ground and running now. I have a video, but it keeps timing out when I try to upload it. The blower whistles like there's no tomorrow lol.
The GN has gone a best of 12.0 @ 92. As you can tel by the MPH it's off. I cut a 1.52 60' and broke an exhaust hanger in the process. Downpipe beat the floorboard to death and knock retard spiked. Memphis Motorsports Park shut down, so there have been no new times.
Cobra hasn't been to the track, it's been under construction for awhile now. In the past year or so I've replaced the clutch with a Promtion hi-rev Kustom, Fidanza flywheel, modified intake mani, Accufab oval TB, I pulled the SFI bell housing off in favor of a direct bolt in (the large SFI bell was just too much of a hassle), alum. DS, Pro 5.0 shifter, and I bolted the S/C on. I like the car (I've have 8-10 mustangs), but it's a PITA to work on. I had to drop the k-member and jack the engine up off the k-member to change header gaskets/motor mounts. I had to remove a head to get the SFI bell off (not a requirement with the new bell!)..
I have a longblock built for the GN just waiting for install, but I am holding off on that until I follow through on buying a house OR accepting that it's not happening right now. Plans are to drop in the built engine, a new converter, and a RMVB TH350 w/ brake at the same time I drop the engine in. The Art Carr 200 and converter have been GREAT, but I start over powering the at 25+ PSI and anything more than a 50 shot.
I also have a spare longblock, rods, pistons, rings, and bearings ready for the Cobra. Same story there. I am not dropping it off for a build until I pull the trigger on a house. Plans are the previously mentioned parts, ported heads, upgraded valvetrain (stock valve size), and MAYBE some Comp Cams.
If I get the house I viewed Saturday (working with the bank to get approved right now....then making an offer) there will be MANY more project threads/discussions to come. It has a shop
-Will