Updated this post on May 10. I updated my mod list.
Plus added new pictures in a reply.
Well I haven't been on this site much, except for the occasional lurking. I've been working full time 3rd shift and in my senior year of college...also full time. So my free time is very little. Anyway, I've done a bunch of stuff to the car since the summer, so I just thought I'd share.
Stock n Happy: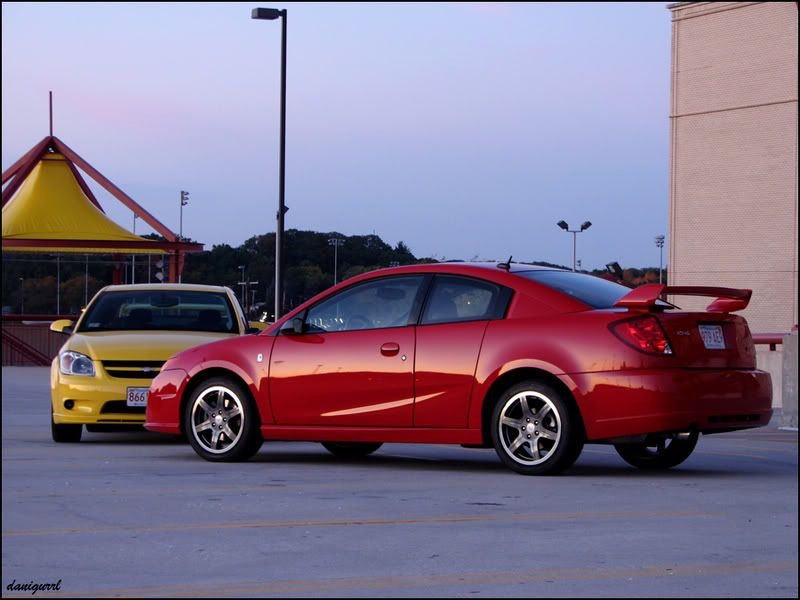 And today:

[Current mods updated 5/10/2010:
K&N Typhoon CAI
K&N hydroshield
Rockford Fosgate 12" sub in custom shaped "SATURN" box
Some aftermarket amp...I forgot the brand. o well.
Brake Motion drilled and slotted front and rear brakes
Evolution cermatic front and rear brake pads
Progress lowering springs
Red powdercoated front and rear calipers
Antennae mod
Blacked out fog light bezel
Painted roof, quarter panels, and roof rails black
Carbon Fiberish Spoiler Insert
CF-Tech of Canada carbon fiber OEM-style hood
GMPP Sport Exhaust
CZ Racing heat exchanger
Stuff that will be installed in the next month or so:
Smoothflow 2.7" pulley and hub
Stage 2 belt
60# injectors and harness
Option B
Cooler spark plugs
SMS ceramic coated header and downpipe with gutted cat
Custom tune from SMG Motoring in Hopedale, MA
I've settled on Konig Zero-In wheels in 17x7, however they've been backordered for foreverrr and I'm waiting for someone to get my bolt pattern in stock. LAME!
Future Looks:
Blower and valve cover powder coated
TINT!