--------------------------------------------------------
'89 Pontiac Firebird "beater turned racer"
--------------------------------------------------------
Goal: Team build with my friend to use as a Daily Driver while we work on our other projects
Start Date: Already Started
Planned End Date: It will never end, but will be driveable by Spring
This is mine and my friends project. It is an 89 Pontiac Firebird Formula. The car was given to us with the deal that we would give the motor and transmission back to the owner of the car, which was perfectly fine because it had the incredibly anemic 305 TBI, and my friend has a handful of motors and transmissions, ranging from 305s to 400s and Turbo 350s to T56s.
We are planning on using this car as a semi reliable daily driver for me as I supercharge my Turd, and then for him while we LS1/T56 swap his 92 Camaro RS. The Pontiac is going to receive a built/cammed 400 small block with a Carter 750 Carb on a Torquer 2 Intake Mani. We decided that to keep this project as cheap as possible, we are just going to stick with a 700R4 for the time being, and maybe after we finish our other projects, go back in and do things the right way with a 5 speed.
We are going to stip and prime the entire exterior and fix all of the body concerns. These will include replacing the right fender and stripping the body of all of the hideous glue that was used to install an aftermarket body kit. The car may receive a new factory lip kit if funds allow.
Here are a few pics of the current project, and we will hopefully be able to add to this pretty often, as I would love to be able to have this car driveable by springtime next year.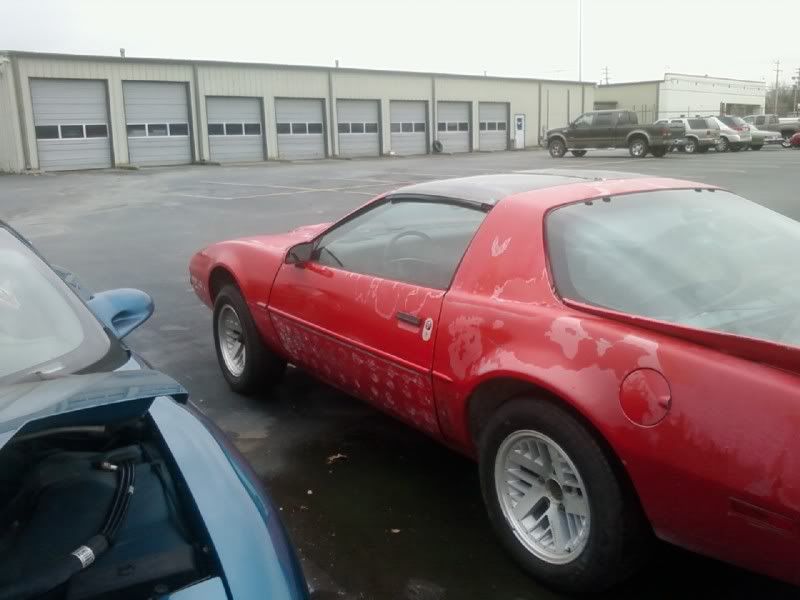 James