ok since i know eventually it'll happen.. it's just a matter of time
my plans
bolt ons.. 5 spd swap.. nitrous? and maybe rear brake swap .. depending on how far i wanna go
also first comes first.. I need a new suspension.. something fierce.. i'm not looking for to brake the bank.. as this whole thing is going to be a " budget" build. lol and will probably take a while to do most of it..
I was thinking ebay intake with good filter ( or make one for myself depending one how everyone thinks of that if so what size piping should be used? looks like 3" is what the plastic is stock )
obx header
?? for catback
then a NX system.. or maybe whatever i find on here.. i'm open to used stuff as well as new
keep in mind my forte is for the delta platform.. so any help you guys have would be appreciated
currently my car only has a set of projectors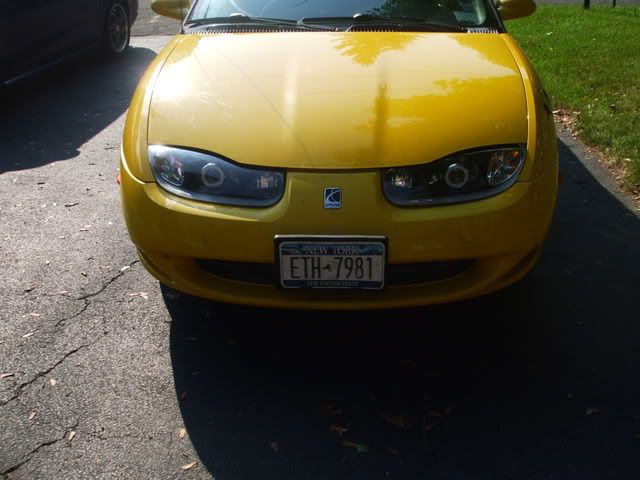 i have a vue gauge cluster on the way but so far thats it
what would be a good setup for shocks / springs? a small drop is ok but i'm looking for more handling then dropping it .. as i have my ion lowered.. and that doesn't always work nicely around here lol i'm not against a drop by any means though
also do any gens cross over for suspension?
I might be redoing the door inserts yellow.. just for fun
also i plan on fixing the bastid ass hole in the driver side fender if anyone knows of a yellow 01 sc2 fender for sale.. hit me up .. DO WANT
i'll probably not do rims.. less fall into some money..
more importantly i need to get my SAI fixed and abs fixed as well since my ses and abs lights are on lol
also does the twin intake cam mod do anything worth while for the 01 sc2s?
sorry if some of this stuff have been answered.. i have a terrible time getting the search function to return any useful results when i'm looking for specific things